[Call for Abstract] 109-02 Teacher and Student Joint Academic Research Symposium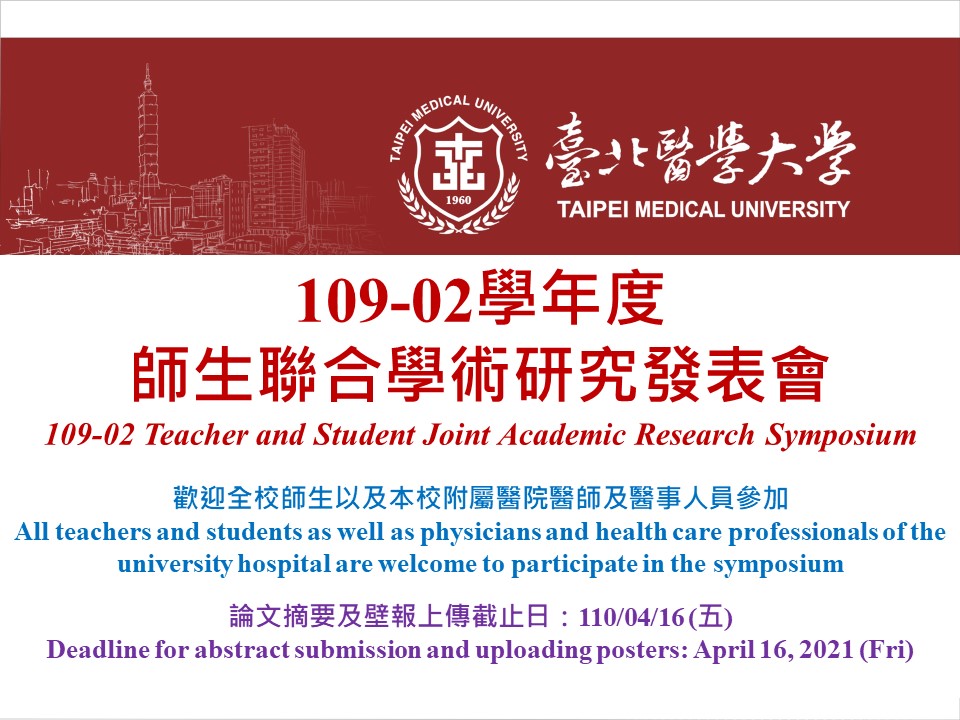 [Call for Abstract]
109-02 Teacher and Student Joint Academic Research Symposium
 
 
《Abstract submission guidelines》
Abstract submission:
Abstract format:
The length of

an abstract should be one page in PDF

format and

a poster of one page in PDF format

(abstracts exceeding the limit will be rejected).
P.S. There are no requirements for font size or line spacing; only PDF files comprising no more than one page are permitted for upload.
Abstract content (citations can be included) should include the following items

(abstracts that do not adhere to these guidelines will be rejected)

:

Title (Chinese/English)

Authors (Chinese/English)
Note on symbols: The primary author (student) should use #; the corresponding author (teacher) should use *)
Author affiliation (Chinese/English)

Abstract content (Introduction/Methods/Results/Conclusion; in Chinese or English)

Keywords
Should the university logo be used on the poster,

please use the current logo

.

Please select the appropriate domain for submission of your abstract. The organizer reserves the right to cancel the award for any abstract that is not presented in the correct domain.

Abstracts submitted later than the deadline or containing incomplete information will not be accepted.
Key dates:
Commencement of online abstract submission: March 15, 2021 (Mon)

Deadline for abstract submission: April 16, 2021 (Fri)

Deadline for uploading posters: April 16, 2021 (Fri)

Poster display (venue to be announced): May 9 (Sun)–10 (Mon), 2021
P.S. Please display your poster following the assigned date and venue (no-show authors are regarded as having waived their rights).
Poster display dates: May 10 (Tue)–14 (Fri), 2021

Poster presentation dates: 13:00–16:00, May 11 (Fri), 2021

Poster removal date and times: 08:00–17:00, May 14 (Fri), 2021
P.S. Poster presenters should retrieve their posters; the organizer will not provide assistance in poster removal or safekeeping.
Venue closure (poster board removal) date: Morning, May 16 (Sat), 2021
P.S. All posters will be removed. The organizer will not store posters.
4. All teachers and students as well as physicians and health care professionals of the university hospital are welcome to participate in the symposium.
5. Should you have any questions, please contact the following individuals:
For the submission process and system operation, please contact Mr. Yang (ext. 7115) at the Office of Research and Development.

For system problems, please contact Mr. Yu-Shun Sheng (02-6638-2736#1611).
6. Poster printing:
Poster printing dates: April 19 (Mon) – May 5 (Wed), 2021;

printing deadline: 17:00, May 5 (Wed), 2021

The Core Facility Center provides printing services. Please contact Mr. Wang (ext.

2684

) for more information.

Poster format:

File format:

PDF only. Size: 90 cm × 120 cm

.

File name:

Poster name_poster size_name of submitter

.

Deadline:

17:00, May 5 (Wed), 2021

Poster collection:

Poster collection date:

2 days after submission (excluding the submission day). No urgent printing services.

Collection process: Please collect your poster by showing the

payment voucher (1)

or

payment receipt issued by the cashier.
Note:
When using the online submission system, please use

Internet Explorer

.
Authors who use

Internet Explorer 11

may encounter editing problems. When modifying author information, please click "

modify

" and wait for the popup window to begin editing; otherwise, the system may not save your information.

Please do not use copy/paste

when editing author information.

Authors who use Internet

Explorer 11

should refer to the

Internet Explorer 11 setting

instructions to avoid system errors.

We apologize for any inconvenience.